New investment in PhD research via Queen's-AFBI Alliance
Two new PhD places at Queen's University and AFBI, with a third at Ulster Uni, are to be supported by a new scholarship from NI farmer-funded research body, AgriSearch.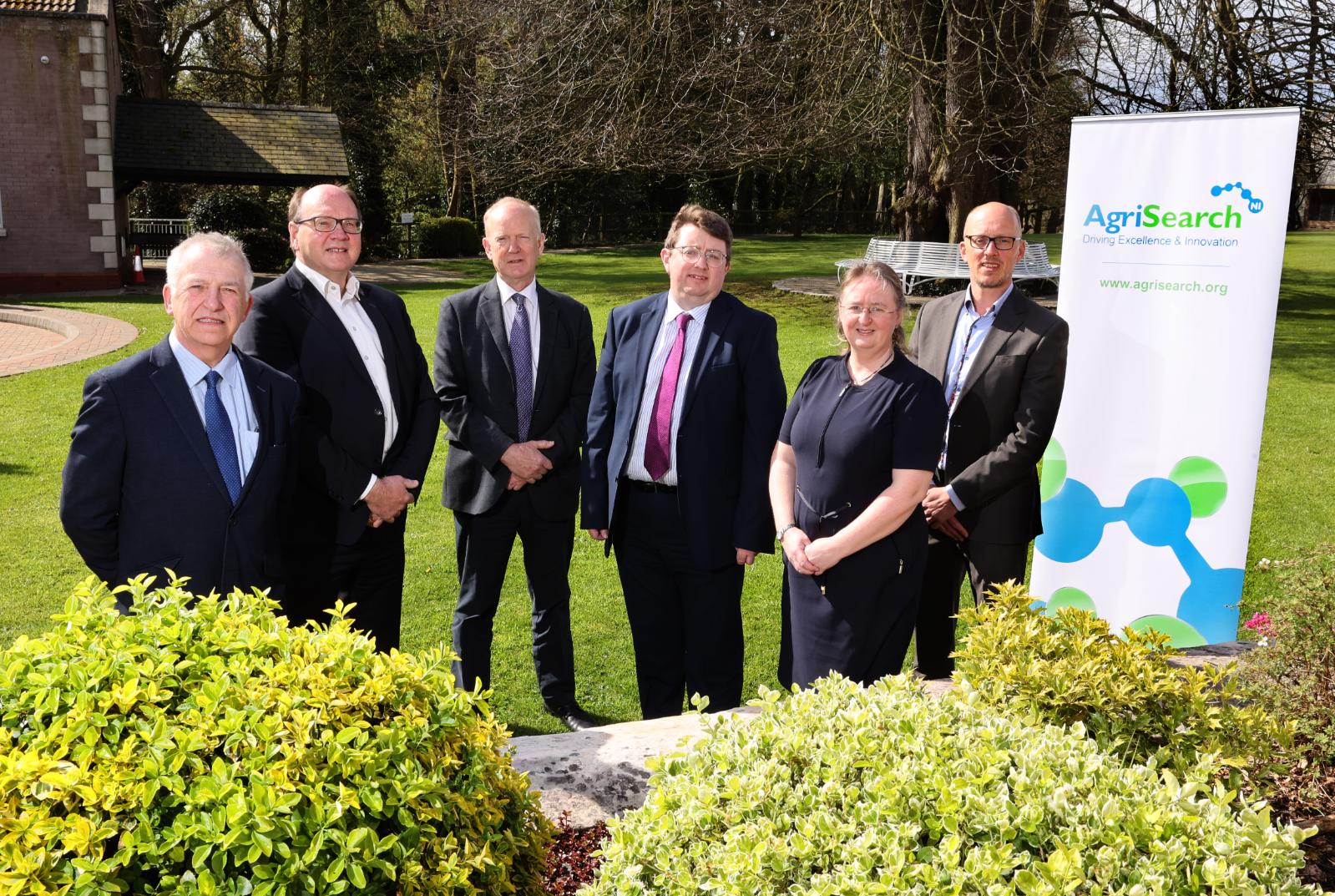 The AgriSearch PhD Scholarship Programme is aimed at improving the overall resilience and sustainability of the ruminant livestock sector in Northern Ireland.
Fully financed by AgriSearch, three new PhD scholarships will support the development of a new generation of applied-research scientists that can improve the competitiveness of Northern Ireland's dairy, beef and sheep industries.
Two of the scholarships will be delivered collaboratively by Queen's University Belfast and AFBI. One will undertake research to examine the effects of climate change on sward productivity and resilience, while another will seek to develop a system for real-time automated carbon footprinting on NI ruminant farms.
A third scholarship, delivered by Ulster University, will focus on the potential of using Artificial Intelligence to optimise renewable energy generation and consumption on-farm.
The new PhDs were unveiled at a launch event held on Monday 24 April at the Dunadry Hotel, Antrim, where speakers were joined by alumni from previous AgriSearch PhD initiatives, alongside farmers currently participating in a number of AgriSearch projects.
Speaking after the launch event, Professor Nigel Scollan, IGFS Director (pictured, above) commented: "I am delighted to see AgriSearch further invest in PhD scholarships, developing scientists equipped with knowledge and skills to conduct world-leading research to address major challenges in our farming industry. The scholarships will also connect internationally, providing students with the opportunity to collaborate with industry and academic research both locally and globally".
AgriSearch Chair Professor Gerry Boyle said: "With environmental and sustainability pressures, market volatility and adaption to changing climate conditions, the industry is facing an unprecedented time of challenge. As an exclusively farmer-funded organisation, a key aim of our work at AgriSearch is to improve producers' resilience to these external shock factors, through our flagship GrassCheck programme, the Beacon farm network and other initiatives.
"With our new PhD Scholarship Programme, we want to build on this work by developing a new generation of scientists equipped with the necessary skill sets to lead on research that will make ruminant farms more sustainable, more resilient, and more efficient.
"We are delighted to be launching these three new PhD scholarships, and I would encourage students to apply and embrace this opportunity to join the next generation of applied research scientists, and drive innovation in Northern Ireland food production."
Dr Patrick Dunlop, Head of the Doctoral College at Ulster University added: "We are delighted to play a role in the delivery of the programme and value the support of the farming community in financing this vital research work. The programme provides an excellent opportunity for scholars to develop both their research skills and wider skillset, for the benefit of Northern Ireland agri-food."
Further information on each of the three scholarships can be found on the AgriSearch website.