Queen's and AFBI Strategic Alliance Team Recognised by National Body
The Queen's-AFBI Alliance is celebrating 'success squared' after two of its leading members were honoured, separately, by the respected British Society for Animal Science (BSAS).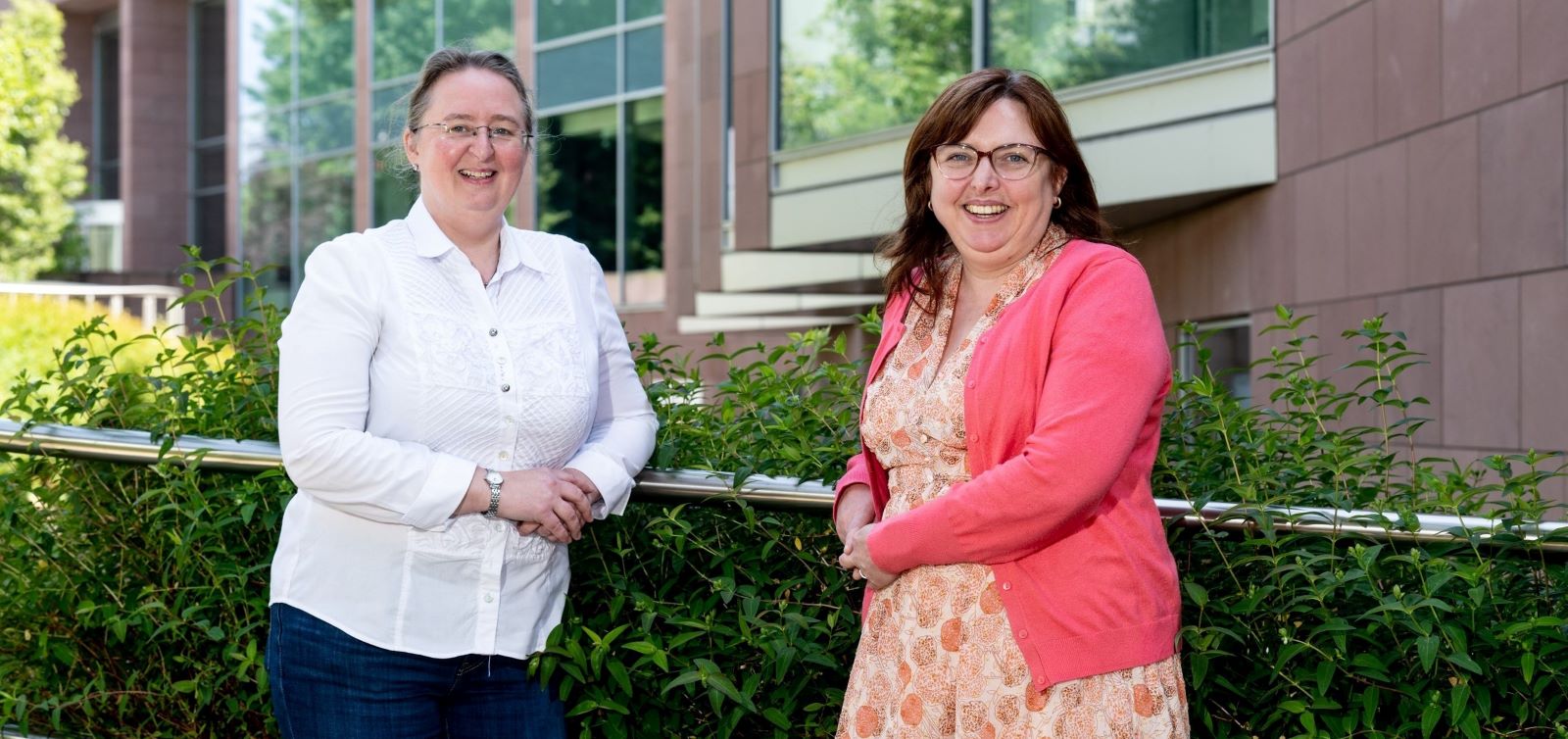 Professor Sharon Huws, Director of Research within the Institute for Global Food Security (IGFS) at Queen's University has won the prestigious 2023 John Hammond Award, while Dr Elizabeth Magowan, Director of Sustainable Agrifood Sciences at AFBI – and a previous Hammond Award winner – has been named the incoming President of BSAS.
Both researchers are key drivers of the Queen's-AFBI Alliance, which seeks to maximise the impact of both organisations' innovation and research programmes to drive transformation and sustainability in the agrifood system, across Northern Ireland and beyond.
Professor Huws was singled out for her research into the rumen microbiome, to improve the efficiency and environmental sustainability of livestock production, through dietary approaches to mitigate the effects of climate change, particularly methane emissions, all while ensuring food security.
She has led and participated in a number of high-profile projects funded by EU and UK governments and the agrifood industry. She currently leads a flagship project for the Global Research Alliance for Methane Mitigation. Prof Huws is a Senior Editor for the journal Microbiome and Editor-in-chief for Animal Microbiome.
Commenting on her award, she said: "I am humbled and honoured to be a Hammond Award winner. Professor John Hammond was a world-renowned animal physiologist, so it means so much to obtain this award named after an eminent scientist and to be recognised by the British Society for Animal Science and British Cattle Breeders Club for my research on ruminant food security in the context of achieving planetary health."
Dr Magowan is a well-known figure in Northern Ireland agrifood with a high profile in the area of de-carbonising agriculture. She has previously held key positions in BSAS, including Vice President and Chair of the Society's Finance and Governance committee.
She has also held leadership positions in the Centre for Innovation Excellence in Livestock (CIEL), including chairing the UK-wide academic consortium on and co-authoring the recent Net Zero & Livestock: How Farmers Can Reduce Emissions report (2022), commissioned by CIEL.
She was Scientific Co-ordinator for a multi-million Euro, EU-funded, international research project (ECO FCE) to increase efficiency and reduce the environmental footprint of pig and poultry farming and, in 2022, awarded an Honorary Professorship by Queen's University.
Commenting on her Presidency, which takes effect immediately, she said: "I am honoured and excited to become BSAS President. The Society plays a critical role in providing a forum for animal scientists across the UK and Ireland and beyond to come together as a community with a key goal of advancing animal science and disseminating state-of-the-art knowledge.
"There is significant expertise in the Queen's-AFBI Alliance, especially aligned with livestock sciences, and it's gratifying to see this recognised at such a high level and a national level, across the UK and Ireland."
Media
For further information regarding the Queen's-AFBI Alliance, please contact qubafbi@qub.ac.uk